Sera Freeze Dried Tubifex 12g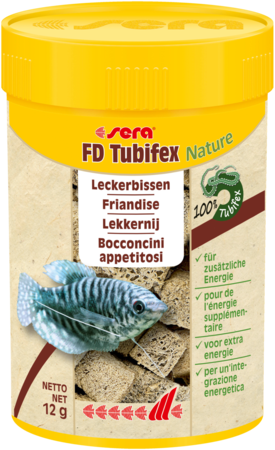 sera FD Tubifex Nature is the natural treat consisting of 100% Tubifex. The worms belong to the normal nutrition spectrum of numerous mainly carnivorous fish species.
The power food is particularly rich in protein and effectively supports the growth of the fish and provides with new energy. Fish weakened by diseases or stress as well as emaciated or particularly finicky fish become stronger again quickly.
Due to the gentle freeze drying the valuable nutrients of the natural food are fully retained.
Feeding Guide:
Feed several times a week in-between meals, only as much as the animals take up within a short time.
Guaranteed Analysis:
Min. Crude Protein 54.5%
Min. Crude Fat 8.1%
Max. Crude Fiber 6.3%
Max. Moisture 6.8%
Max. Crude Ash 6.9%