GlasGarten Shrimp Baby Food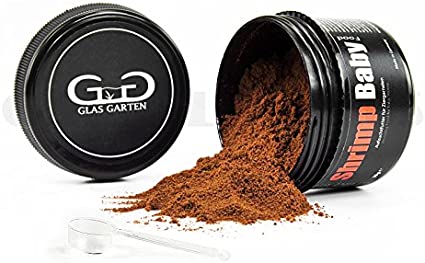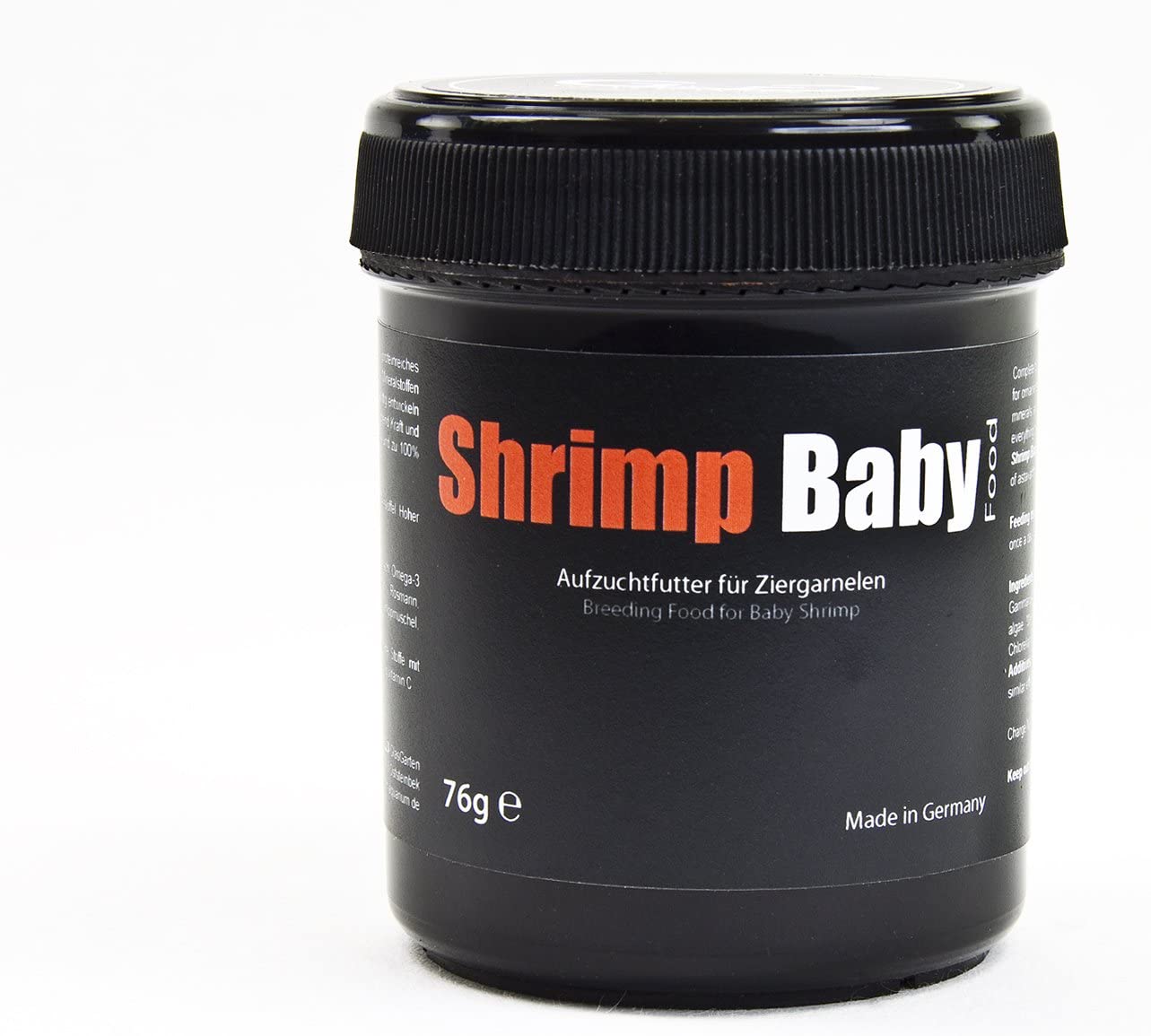 Shrimp Baby Food is a powdered rearing food for ornamental shrimp that is rich in protein, containing zooplankton, natural vitamins, minerals and high levels of Omega 3 fatty acids, providing young shrimp with everything they need for healthy growth and delivering sufficient power and energy. The content of 100 ppm astaxanthin forms especially in red, yellow and orange shrimp, the color pigments cells from the beginning good, so they may show up in a blaze of color.
Newly hatched shrimp larvae need an ample range of different nutrients after their first molt (after hatching until the first molt they do not eat anything as they get their nutrients from their yolk sac).

Shrimp Baby Food contains all essential proteins and amino acids that are so important for healthy growth. Highly digestible carbohydrates and polyunsaturated fatty acids (PUFA) deliver the necessary energy for molting. Carefully chosen algae, vegetables and herbs supply the baby shrimps with micronutrients. Green-lipped mussels are well-known for their high content of glykosaminoglykans, which form a very valuable component of the shrimp carapace. The multivitamin mixture we have also added provides your shrimps with all the vitamins they need and prevents deficiencies. Vital minerals and trace elements are provided by a concentrate of red coralline algae containing over 50 different minerals and trace elements.

Shrimp Baby Food is a full extrudate. This manufacturing method guarantees high digestibility. All the nutrients contained in this food are highly bioavailable. The powdery micro granules form a fine filmlike layer on all the surfaces in the tank. This is necessary as baby shrimp are quite sessile in the beginning, which means that they usually remain in the place where they hatched and that the food has to come to them. If it doesn't, they risk starvation.

Shrimp Baby Food has been manufactured with the utmost care, it is a fully extruded and 100% conglomerated powdered food. Contains 100 ppm of astaxanthin for more brilliant colours.
Feeding recommendation (per 120 l)
• normally stocked tanks: 1 measuring spoon* once a day
• highly stocked tanks: 1 measuring spoon* twice a day
1 Measuring spoon corresponds approx. 0.5g
* Measuring spoon included
Ingredients
zooplankton, protein extracts of vegetable origin, squid, Omega-3 oil, Gammarus, Daphnia, white cabbage, Spirulia, spinach, rosemary, Nannochloropsis algae, Moringa oleifera, minerals, yeast, green-lipped mussel, brine shrimps, balm, Chlorella algae, fennel, pollen, grape seeds

Additives (per kg)
Nutritional additives: Vitamins, provitamins and chemically defined substances having a similar effect: 2.000 IE E 671 vitamin D3, 200 mg vitamin E, 250 mg vitamin C
Amino acids: 20 g L-Lysin, 10 g L-Threonin
Coloring: 100 mg Astaxanthin

Analytical Constituents
48% crude protein, 9% crude fat, 3.2% raw fibre, 12.3% crude ash, 5.5% moisture


Shrimp Baby Food is available in a 38g or 76g box.
One measuring spoon is also incl. in the box of Shrimp Baby Food.

Made in Germany