Sera Cichlids Sticks Nature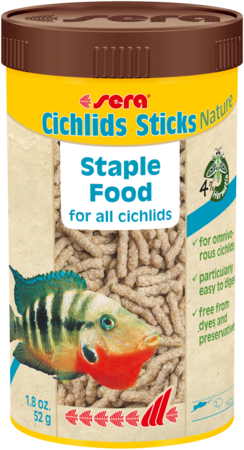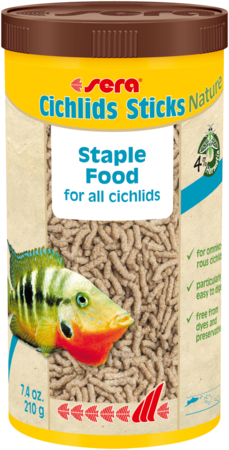 Basic food for larger cichlids
sera Cichlids Sticks Nature is the staple food without dyes and preservatives consisting of gently manufactured sticks for larger omnivorous cichlids – such as many South American species – and other large fish.
The sticks are particularly tasty, due to its high amount of optimally digestible protein from sustainable fish and insect meal as well as omega fatty acids. The balanced diet supports liveliness and healthy development of the fish. The floating sticks keep their shape and do not pollute the water.
Feeding guide
Feed once or twice daily, only as much as the animals take up within a short time.
Ingredients
fish meal, corn starch, wheat flour, wheat gluten, Hermetia (4%), brewers yeast, fish oil (containing 49% omega fatty acids), gammarus, green-lipped mussel, mannan oligosaccharides, Haematococcus algae, garlic.
Guaranteed analysis
Min. Crude Protein 38.9%, Min. Crude Fat 5.0%, Max. Crude Fiber 4.8%, Max. Moisture 6.0%, Max. Crude Ash 6.5%.
Additives
Vitamins and provitamins: Vit. A 13,600 IU/lb., Vit. D3 680 IU/lb., Vit. E (D, L-α-tocopheryl acetate) 27 IU/lb., Vit. B1 14 mg/lb., Vit. B2 41 mg/lb., Stabilized Vit. C (L-ascorbyl monophosphate) 250 mg/lb.