Sera Pond Mix Royal Nature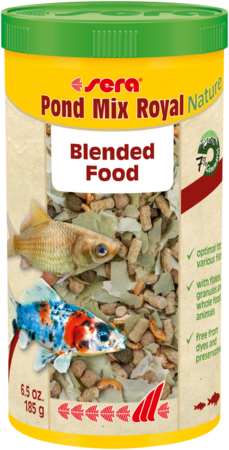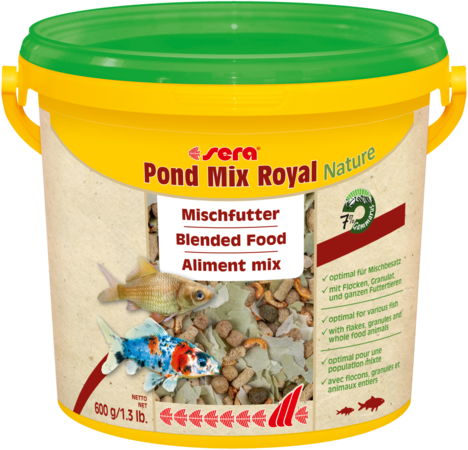 The variegated blend for various pond fish
sera Pond Mix Royal Nature is the staple food consisting of carefully processed flakes, granules and whole gammarus for feeding in ponds with various fish throughout the year. Of course free from dyes and preservatives.
The balanced blend contains everything pond fish of different species and sizes need for a healthy development and strong disease resistance.
The small ones eat the flakes, whereas the larger ones can choose from three savory granules. The tasty gammarus rich in minerals (7%) are a special treat. The floating food keeps its shape for a long time and does not pollute the water.
Feeding Guide:
Feed once or twice daily through­out the year, only as much as the animals take up within a short time.
Ingredients:
wheat flour, fish meal, corn starch, gammarus (7%), spirulina, brewers yeast, fish oil (containing 49% omega fatty acids), Hermetia, wheat germ, wheat gluten, mannan oligosaccharides, Ca-caseinate, green-lipped mussel, herbs, alfalfa, stinging nettle, krill, parsley, sea algae, paprika, garlic, spinach, carrots, Haematococcus algae.
Guaranteed Analysis:
Min. Crude Protein 29.0%
Min. Crude Fat 4.5%
Max. Crude Fiber 4.9%
Max. Moisture 6.0%
Max. Crude Ash 7.4%
Additives:
Vitamins and provitamins: Vit. A 4,490 IU/lb., Vit. D3 560 IU/lb., Vit. E (D, L-α-tocopheryl acetate) 56 IU/lb., Vit. B1 5.6 mg/lb., Vit. B2 5.6 mg/lb., Stabilized Vit. C (L-ascorbyl monophosphate) 56 mg/lb.