Sera Spirulina Tabs Nature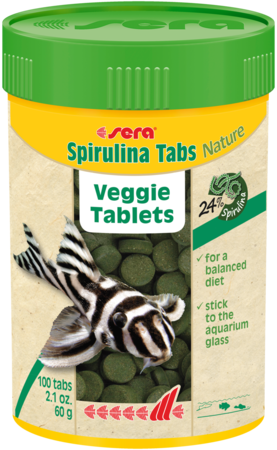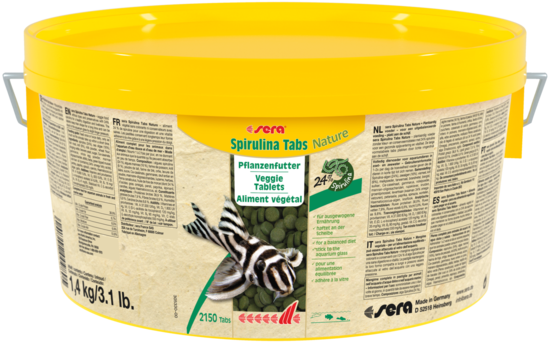 Attaching tablets with 24% spirulina for healthy digestion and liveliness
sera Spirulina Tabs Nature is the veggie food without dyes and preservatives consisting of attaching tablets. It is excellently suitable for mainly herbivorous fish and invertebrates in fresh and marine water.
The particularly high percentage of spirulina algae (24%) supports healthy digestion and liveliness. The balanced food supports healthy development, splendid appearance as well as appropriate behavior of the animals.
The gently manufactured tabs sink to the bottom or can be attached to the aquarium glass by slight finger pressure. This allows watching even shy fish while they are eating.
Natural ornamental fish diet
This product belongs to the "sera Nature" product range, which does not require any dyes nor preservatives. A varied diet with ingredients close to nature is the best protection against deficiencies, and supports the health and liveliness of the fish. The Nature food types therefore contain natural ingredients such as Spirulina, Krill or sustainable insect meal from soldier fly larvae (Hermetia). The signets on the front side of the package highlight these ingredients and their amounts in the food.
Ingredients
spirulina (24%), sea algae (16%), fish meal, krill (9%), milk powder, wheat flour, stinging nettle, brewers yeast, sugar, Ca-caseinate, gammarus, mannan oligosaccharides, alfalfa, herbs, green-lipped mussel, cod-liver oil (containing 34% omega fatty acids), parsley, paprika, spinach, carrots, Haematococcus algae, garlic.
Guaranteed analysis
Min. Crude Protein 36.9%, Min. Crude Fat 6.7%, Max. Crude Fiber 8.5%, Max. Moisture 6.9%, Max. Crude Ash 10.9%.
Additives
Vitamins and provitamins: Vit. A 16,800 IU/lb., Vit. D3 820 IU/lb., Vit. E (D, L-α-tocopheryl acetate) 54 IU/lb., Vit. B1 16 mg/lb., Vit. B2 41 mg/lb., Stabilized Vit. C (L-ascorbyl monophosphate) 250 mg/lb.