Sera Vipagran Baby Nature Fry Micro Granules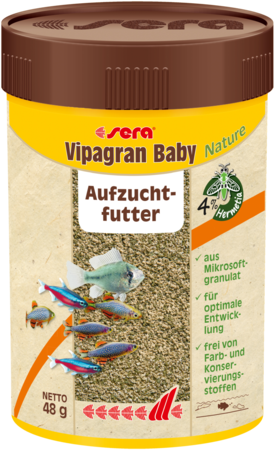 Micro soft granules for fry with 4% insect meal
sera Vipagran Baby Nature is the rearing food without dyes and preservatives consisting of gently manufactured micro soft granules for all fry eating in middle water layers.
The balanced, easily digestible composition with sustainable fish and insect meal, omega fatty acids, algae rich in carotenoids and trace elements as well as prebiotically effective mannan oligosaccharides supports healthy growth, strong disease resistance as well as optimal development and color formation.
The slowly sinking micro soft granules quickly become smooth but keep their shape and do not pollute the water.
Natural ornamental fish diet
This product belongs to the "sera Nature" product range, which does not require any dyes nor preservatives. A varied diet with ingredients close to nature is the best protection against deficiencies, and supports the health and liveliness of the fish. The Nature food types therefore contain natural ingredients such as Spirulina, Krill or sustainable insect meal from soldier fly larvae (Hermetia). The signets on the front side of the package highlight these ingredients and their amounts in the food.
Ingredients
corn starch, wheat gluten, fish meal, Ca-caseinate, Hermetia (4%), wheat flour, fish oil (containing 49% omega fatty acids), brewers yeast, spirulina, wheat germ, herbs, alfalfa, stinging nettle, gammarus, mannan oligosaccharides, parsley, sea algae, paprika, Haematococcus algae, spinach, carrots, green-lipped mussel, garlic.
Guaranteed analysis
Min. Crude Protein 39.3%, Min. Crude Fat 7.1%, Max. Crude Fiber 5.2%, Max. Moisture 6.0%, Max. Crude Ash 6.5%.
Additives
Vitamins and provitamins: Vit. A 16,800 IU/lb., Vit. D3 820 IU/lb., Vit. E (D, L-α-tocopheryl acetate) 54 IU/lb., Vit. B1 16 mg/lb., Vit. B2 41 mg/lb., Stabilized Vit. C (L-ascorbyl monophosphate) 250 mg/lb.